Providing food for the hungry.
Giving shelter for the homeless.
Offering safety to those affected by domestic violence.
Saint John has a history of pulling together to ensure that basic needs in our community are met. But are we doing to prevent these issues at their core?
Homelessness, drug addiction, domestic violence – they are the results of situations, choices, experiences, and circumstance. With greater access to preventative mental health care measures, would we see a change? We think so.
Gentle Path Counselling Services believes that lack of affordable mental health care is helping to perpetuate some of these devastating community issues. That's why we offer professional mental health care for everyone, regardless of their means to pay. Not just one day – everyday.
Our community must work on being pro-active, not reactive.
There is a cost to the vital services we provide. To cover those costs, we apply for grants, organize fundraisers, and ask for gifts from our generous donors. That's it. That's where our money comes from. We do not receive Government support for the mental health services we provide.
Gentle Path is once again embarking on an extremely important fund-raising campaign. The Holiday Hope campaign will provide fully subsidized mental health care for ten recipients in our community. The cost for just one appointment totals one hundred and twenty dollars. At an average of five full sessions per person, we need to raise Six Thousand Dollars to make this happen.
We can't do this alone.
Gentle Path is asking for your gift this holiday season. Whatever you can give will be accepted and appreciated with our heartfelt gratitude.
As this is our 25th year, any gift over twenty-five dollars will be recognized with a bulb in your (or company's) name on our Holiday Hope tree. In addition, any donation of twenty-five dollars or more will receive a gift from us, a sterling silver hug ring as a show of our deep appreciation.
The highest single donation will claim the star at the top of the tree!
Let's work together to make mental health care accessible for everyone.
Thank you for your support.
Trish Hamilton
Executive Director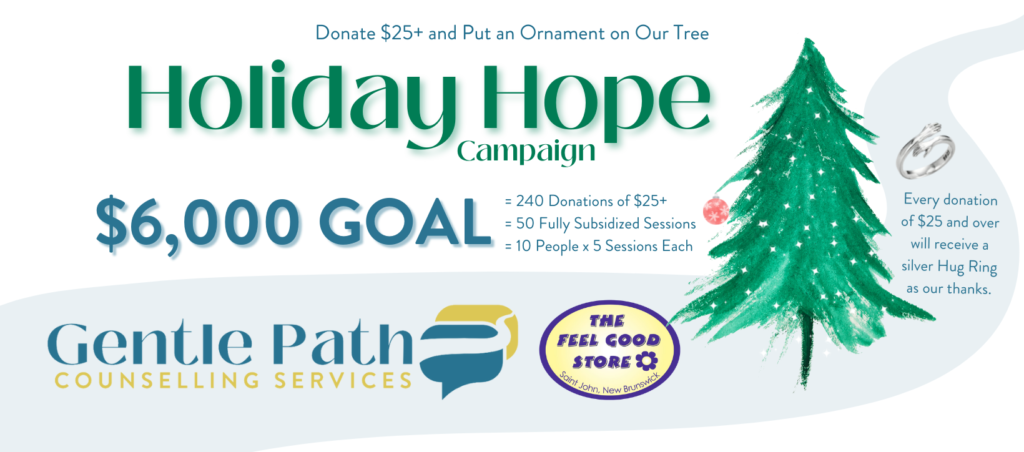 Gentle Path Counselling Services relies heavily on grants, funding and donations to make our various services and programs available to everyone, regardless of financial means.
We believe that Mental Health Care is for everyone. That's why we work with our valued donors to secure the funding necessary to ensure everyone is able to access the help they need through subsidized counselling sessions where applicable.
Whether it's a one-time gift or a monthly contribution, you will make change for someone who truly needs it. It may even be someone you love.
We ask that you please consider Gentle Path when assessing your not-for-profit giving. BN: 853777175RR0001